James R. Healey, 10 a.m. EDT July 4, 2014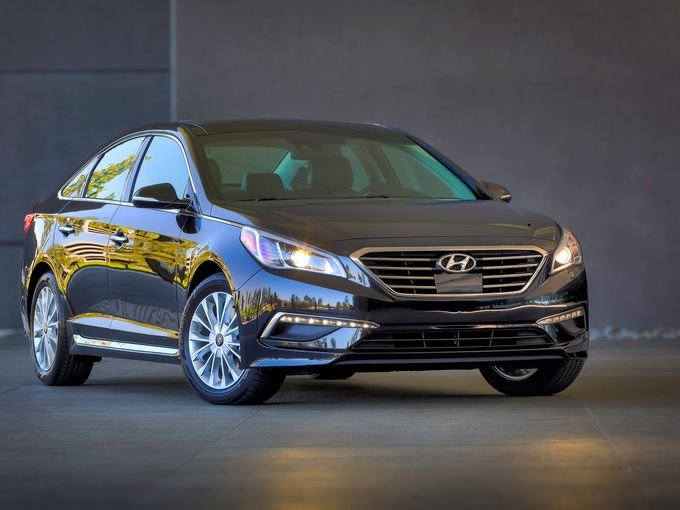 MONTGOMERY, Ala. -- Don't let the blander styling camouflage the fact that the tip-to-toe overhaul has made the 2015 Hyundai Sonata sedan a deadly serious contender for best of its ilk.
Drives smoother, goes better, provides more features, yet carries starting prices lower than the previous model.
Hyundai Motor America CEO David Zuchowski says the company needed to reclaim its status as a value leader, and the new Sonata is meant to do that. In his view, the Japanese took away that reputation, and Hyundai is in no position to be just another commodity-car seller in the midsize market.
The Sonata's built at a sprawling Hyundai factory here that also makes the smaller Elantra.
We love factory tours, though that's not necessarily the normal reaction from auto writers. Two things we noted on this one, for what they're worth:
The huge, impossibly noisy stamping presses are enclosed, creating a much quieter and more humane environment than when the huge machines are out in the open, as in some other plants.
Hyundai doesn't worry about sparks from welding; let 'em fly. We saw the same at Nissan's Smyrna, Tenn., factory --- look at the cool fireworks, was the attitude.
A very high manufacturing executive at Ford Motor, however, taking us on a plant tour, chewed out his foreman royally for allowing sparks. The sparks create metal dust that lands on car parts and cause flaws that have to be fixed for the paint to stick and flow properly, was the thinking.
We suspect the Ford man is right.
There are plenty of Sonata details to pick through and mull, but the short version is this: If the new Sonata isn't the best midsize, mainstream sedan on the U.S. market, we'd be hard-pressed to figure out why.
Honda Accord fans, a loyal bunch, will scream. VW Passat drivers will scoff at the thought anything else could be as crisp. Ford Fusion owners will say nothing looks as cool as their Euro-inspired Fords. Toyota Camry types will shrug.
But more than any other type of car, a midsize sedan needs an almost impossible blend of features to be best-in-class, even if it's not No. 1 at any one thing. Sonata, in our view, comes closest to the right blend. Why?
Price: Mid-$20,000 gets a pretty nice one, and that's not much money for a well-featured, strong-running, fuel-efficient, roomy sedan nowadays.
Noise: None to speak of. Serene and restful inside.
Features: We've come to expect that whatever is in a Hyundai is done right, and the new Sonata doesn't contradict that. Our favorite rant topic, infotainment/connectivity/whatever you like to call it, provides no purchase for such wailing.
Phone pairing, voice control, navigation --- all first-rate in speed and simplicity.
Controls of other sorts are well-placed, logical. The right seating position was findable (unlike on some cars, which seem to have no just-right seating alignment).
Variety: Hyundai hopes the variety of models broadens the Sonata's appeal. In addition to the SE, Limited and Sport models that hold the middle, Hyundai later this year will offer a Sport Turbo with 245-horsepower, different power-steering setup and modified suspension. Also coming is a mileage-minder called Eco, with Hyundai's first use of a seven-speed automatic.
Sonata hybrid continues, but still based on the last-generation 2014 vehicle. No hybrid version of the new one for awhile.
We drove a pre-production version of the 2-liter turbo and found it very appealing because it is strikingly quick without sacrificing any of the car's basic easy-going nature.
And we got wheel time in the Eco --- first person to drive it who didn't work at Hyundai, the automaker said. It was a pilot production version, which is more like a practice car, to see if everything really fits and works. Normally, you'd expect flaws and rough edges, literally, in a pilot model, but none showed in the Eco.
We'll stipulate to the Eco's better mpg --- ours was in the high 30s --- but what was most impressive is that it drives vigorously, not like a weenie fuel-sipper. Has about the same power as the 2.4-liter non-turbo engine that's in most Sonatas.
You'll hear that Hyundai's "dumbed-down" the Sonata's appearance from the adventuresome, swoopy look of the 2011 to 2014 model. We thought so at first, but the new toned-down look quickly seems just fine.
After three passes through the ol' notebook, we find no gripes. You won't find that very often.
What stands out
Quiet: Serene passenger space
Quick: Optional 2-liter turbo is remarkable
Smooth: High-class blend of ride, handling, comfort
About Hyundai Sonata
What? Overhaul of midsize, front-drive, four-door sedan.
When? Phased rollout. Models with 2.4-liter four-cylinder went on sale May 31. Sport Turbo with 2-liter turbo performance engine due in August.
Eco mileage model with 1.6-liter turbo engine due in September.
Where? Made at Montgomery, Ala.
How much? Starts $300 less than previous model, has more standard features. SE starts at $21,960, including $810 shipping.
Sport, $23,985.
Limited, $27,335. Sport 2.0 Turbo, $29,385. Eco, 1.6-liter engine, $24,085 plain, and $28,185 fancy.
What makes it go? 2.4-liter non-turbo base engine rated 185 horsepower at 6,000 rpm, 178 pounds-feet of torque at 4,000.
2.0-liter turbo rated 245 hp at 6,000, 260 lbs-ft. at 1,350 rpm. (The 2014 turbo has 274 hp; Hyundai says the drop is because 2015 is re-tuned for better response at lower speed.)
Both with conventional six-speed automatic.
Eco has 1.6-liter turbo rated 177 hp at 5,500, 195 lbs.-ft. at 1,500 rpm, mated to a new seven-speed, dual-dry-clutch automatic gearbox.
How big? Think Camry/Accord. Sonata's about two inches longer, wider than Toyota Camry. Passenger space 106.1 cubic feet; trunk 16.3.
Turning circle diameter, 35.8 ft.
How thirsty? SE with 2.4-liter rated 25 mpg in the city, 37 mpg highway, 29 mpg in combined city/highway driving. Sport and Limited with 2.4: 24/35/28.
Sport Turbo with 2-liter turbo: 23/32/26. Eco with 1.6-liter turbo: 28/38/32.
Limited 2.4-liter test car registered 31.4 mpg (3.18 gallons per 100 miles) in highway and fast two-lane driving. Eco 1.6-liter test car registered 37.1 mpg (2.7 gal./100 mi.) in fast rural two-lane driving.
Burns regular, holds 18.5 gallons.
Overall:
Gets our vote for best midsize sedan